What to do when you applied 2 weeks ago and haven't heard back.
Two weeks seems like a painfully long time to wait, especially when you're really excited about the opportunity you applied for.
I have a friend who has been applying to at least two jobs a day. She said it has been all over the board and very unpredictable when, or if, she hears back. So far her process has gone like this:
Step 1. Find a position of interest on a job board.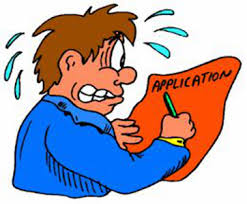 Step 2. Double check on the business or company website career section that said position is still listed.
Step 3. Apply, usually directly on the website instead of the job board.
Step 4. Check on status of application immediately, if that option is available.
Step 5. Check email for any sort of response. (Usually there is a canned "Your Application Has Been Received" notification.)
Step 6. Repeat steps 4 and 5 non-stop until you can't take it anymore.
Step 7. Lose patience and swear to not check email the rest of the night.
Step 8. It's a new day, repeat steps 1 through 7. 
Then, she went on to tell me that when she does hear back, with the exception of two places, it's been about 2 to 3 weeks before she hears anything.
The two places of note were in touch within a couple of days. One she was VERY surprised they reached out so quickly because the listing had been up for over 3 weeks already.
I imagine she isn't alone in this process and frustration of waiting.
So, how long should it take and can you do anything to speed things up? Read on to find out.
How Long Should It Take to Hear Something After Applying?
There are a lot of factors in play when it comes to hiring. The number one is hiring urgency. How quickly do they need to fill the position or can they continue to operate while it sits open?
Another factor is decision routes. Where they are in the process when you apply can have an effect on how long it takes to hear back, especially if you're a later applicant.
There are a bunch of other factors, but those are two of the biggest.
It's safe to say, though, no matter what, the average is around 2 weeks and that is NOT a hard rule.
What Can I do While I wait?
Well, like my friend, you can drive yourself mad checking and double checking your email and application status. I don't recommend this method.
Here are some ideas of other things you can do.
1. Keep Applying
There is nothing wrong with continually applying to other jobs if you need something sooner rather than later. Just remember to tweak your resume to fit each position so you're maximizing your, and the recruiter's, time.
2. Follow the Rules
If it has been a few days or you're feeling ancy, review the job listing. Look for any indicators that describe their hiring process that might clue you in on when to expect to hear from them. Also be on the lookout for whether they want to be contacted. This will help you know whether to send a follow-up email after the two weeks of waiting has come and gone.
3. Prepare Your Follow-Up Email
Just makes sure it's a draft with no address in the 'to' bar. We don't want an accidental send.
Don't know what to say in that email? Here's a quick example:
Dear Hiring Manager,
On February 9th I applied for your Executive Assistant position and would like an update on the status of my submission.
I was very excited to learn about the opening on your team and how I could bring my experience to boost productivity for the CEO.
Please let me know if you need any additional information.
I look forward to hearing from you.
Sincerely,
Mary Southern
4. Reach Out on LinkedIn
After one to two weeks, don't be shy and reach out on LinkedIn. You can usually find who is hiring for the position on there. Send a connection request with a little note stating "hoping to connect after applying for the Executive Assistant position at your company."
5. Close Your Computer and/or Phone
That's right. I said it. Get off your computer and phone and take a break from the job hunt. It's a stressful event in its own right.
Find something else to do for awhile that isn't screen related. Partake in some self-care, get outside, meet up with a friend and tell them your woes to blow off steam.
How to Get a Quicker Response
You aren't going to like my answer.
There isn't much you can do. Once you apply, it's pretty much out of your control from there.
Here are a few quick tips to help you stand out, though.
Tailor your resume to the position you are targeting, using key words from the job description.
Make you resume ATS friendly. Avoid using columns and tables because a scrambled up resume isn't going to get reviewed.
Write using action based, results oriented bullet points. Show what you've done, don't just list your job responsibilities.
Have you been applying and not hearing back even after 2 weeks?
Reach out today and see how Resume Assassin can help.
Let's Connect!
Reach out today: www.resumeassassin.com or mary@resumeassassin.com
Connect on LinkedIn: www.linkedin.com/in/mary-southern
Schedule a 15 Minute Call: https://calendly.com/resumeassassin/meet